Auto flux sprayer
MODE : SP-1000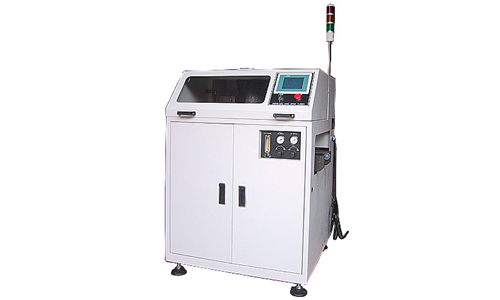 Features:
Color Touch screen control system
Automatic spray system with detect unit
PC board width automatic adjustment
Conveyor width auto adjustment (Touch screen control)
Inverter line speed control (Touch screen control)
Single/Twin spray selectable (Touch screen control)
Spray action start/ending point fine-tune function (Touch screen control)
Encoder type speed detector, line speed could adjust while spray in action
Closed piping with air pump to prevent air contact. FLUX pressure stabilizer with precision flow control to save FLUX cost and provide best spray result.
Special alloy nozzle with automatic cleaning function to keep nozzle block away
Conveyor chain automatic cleaning function
Counter function
Long conveyor: 1000mm Max. (Pre-Ordered) to replace climbing unit.

Easy operation, special technician is not required.
Specification:
1. Power : AC 220-240V¡B 3 phase¡B 50-60Hz¡B Max.1000W
2. Exhaust : 8¡¨
3. Air pressure : 4 - 6kg/cm2
4. Size : 900*1000*1250mm(L*W*H)